I've got a new community. Ever find yourself without Harry Potter fandom goodies to enjoy? Ever find an awesome fic/art/vid/whatever and want to share it with the world but the pairing is too obscure to be shipped widely? Want to join me in more fun? Yeah, of course you do. So join the LJ community
hpdaisychain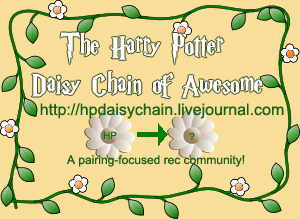 Come join the fun in this new Harry Potter rec community... with a twist!
Spread the word on your own journals/communities if you can, because you know I don't run in all the circles out there and could use help letting others know this is out there.
If you have any questions/comments about how it works let me know!